3hi Africa's consulting solutions focus on the most crucial issues facing our clients, and help them maximise their opportunities across Strategy Consulting, Talent Management and Consulting in Operations. We are keen to offer you creative solutions that will support you in developing and executing winning strategies that will create more value in your business and transform your business environment downright.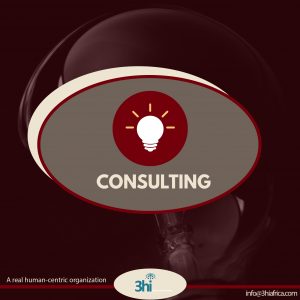 We bring together our experience and leadership in strategy, the latest tools and technologies, and an unrivaled set of capabilities and talent to help our clients navigate and win today and in the future. Strategic success requires pursuit of goals that are specific, and clearly differentiated from those in competing organisations. 3hi Africa's Strategy consulting services assist organizations to propel their strategic planning efforts to produce results that meet the requirements of the customers/ consumers in the market place and the growth needs of the organization. We work on the development of methods to bridge this gap between overall strategic intent and the creation of locally relevant, actionable, interpretations of these goals.
Consulting in Talent Management 
Without employees committed to your vision and empowered to reach it, your organisation will always struggle to thrive. Talent Management expertise is the key to creating a high-performance and long-term sustainable organisation that meets its operational goals and objectives. 3hi Africa's Talent Management consulting services aim to deliver tailor-made services, created with a fixed focus on your business needs and requirements by our talented team of consultants and psychologists.
We start by listening to you, and we create solutions that exceed the expectations of even the most demanding of partners. Whatever the size of your organisation, you need to successfully tackle the challenge of sourcing, attracting, engaging and retaining talent.
 We complement our tailored, integrated expertise to help companies deliver better, faster and more enduring outcomes. 3hi Africa's Operations consulting services offers advisory and/or implementation services that improve a company's internal operations and performance in the value chain. We do this by advising and supporting our clients with the implementation of changes to target operating model, functional business processes, management systems, culture and other elements part of the value chain such as Communication strategy, Monitoring & Evaluation.